Purpose of this study
Post-operative evaluation and intra-operative support in 3D have become popular with the introduction of Computer Assisted Surgery (CAS). However, surgical navigation system has high accuracy with low versatility, and therefore it is often considered as its problem.
The purpose of the case study below is to compare the error of cup placement degree among 2 hospitals with the use of HipCOMPASS, intra-operative jig for acetabulum.
Subjects
99 hip joints for THA with HipCOMPASS and pre- operative planning and post-operative evaluation using ZedHip in affiliated hospital A and B from November 2010 to April 2012
59 hip joints in group A and 40 hip joints in group B
Pre-operative planning
Pre-operative planning was made with pre-operative CT data with the use of ZedHip (manufactured by LEXI Co., Ltd.).
Cup alignment relative to Functional Pelvic Plane (FPP):
radiographic inclination (RI): 40 degrees
radiographic anteversion (RA): 20 degrees
Stem alignment relative to femur coordinate system:
anteversion (SA): 20 degrees
In case that femur has sever anterversion, SA and RA were a little bit changedfine-adjusted according to combined anteversion theory.
However, RA was reduced for subjects in which sacral inclination has a backward tilt of more than 15 degrees in supine and standing position, and the ones in which anterior pelvic plane has a backward tilt of more than 20 degrees.
Approach
Supine modified MIS Watson-Jones approach
Used implants
BiCONTACT total hip system by Aesculap, Cementless, mainly 32mm bone head diameter.
Post-operative rehabilitation
Abduction pillow was not used. Full weight-bearing ambulation from the next day of operation.
Post-operative evaluation
Post-operative evaluation was performed with the use of ZedHip with post-operative CT scan.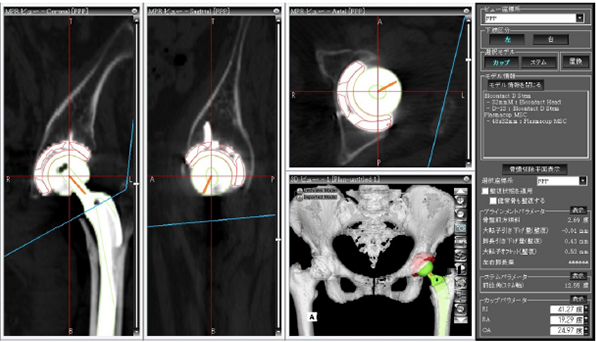 Measurement evaluation was performed by comparing post-operative CT data and CAD data from pre-operative planning.
Actual use of HipCOMPASS
1. Measurement of thickness of compressed soft tissue
Puncture was made on ASIS and pubic region with unique depth gauge.
2. Input of parameters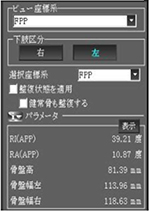 Pelvic width, pelvic height, RI and RA were calculated by pre-operative planning, and thickness of compressed soft tissue was calculated by measured value. Using all these parameters, width, degree and leg length of the device were adjusted.
3. Fixation by K-wire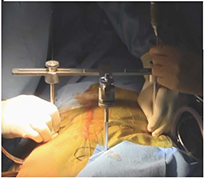 The device was fixed with puncturing 1.5mm-diameter-K-wire from ASIS.
4. Reaming by checking with the angle indicator
5. Placement of cup parallel to the angle indicator

After fixing a screw, cup holder was applied again and the degree of device indicator and cup holder was measured. Placement accuracy was calculated as the difference (absolute value) in the implantation angles between pre-operative planning and the post-operative measured value.
Results
Group A
Avg. RA: 2.3±2.2 degrees (0~13)
Avg. RI: 2.1±1.8 degrees (0~7.4)
Group B
Avg. RA: 2.5±2.1 degrees (0.1~9)
Avg. RI: 2.9±1.9 degrees (0.1~8)
A significant difference (-) between 2 groups was found.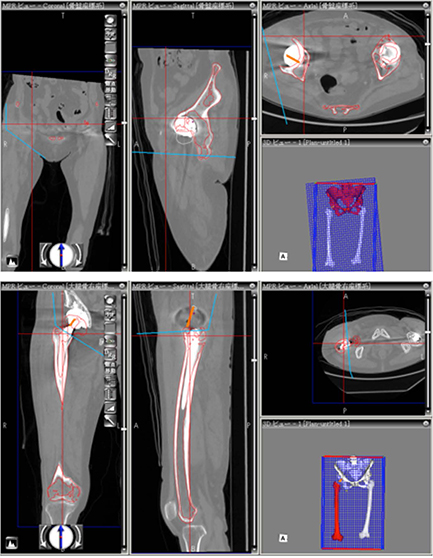 Observation
HipCOMPASS is a simple and versatile intra-operative support device, and a system to navigate cup placement angle with recreating APP during operation by correcting the error due to thickness of soft tissue.
Composite schematic diagram on a sagittal CT section

Because of the puncture to soft tissue at its use, there may be an error between surgeons. However, the above result shows that HipCOMPASS relatively brings high accuracy even when it is used by different surgeons in 2 hospitals.
Possible error factors of this study
Measurement by unique depth gauge
Visual check of indicator
Pressing of HipCOMPASS against soft tissue
Placement of HipCOPMPASS at registration points
Post-operative measurement
1. Measurement by unique depth gauge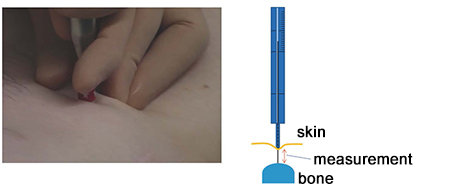 Error can occur when pushing the gauge so as to avoid any irreversible damage to skin at its use.
2. Visual check of indicator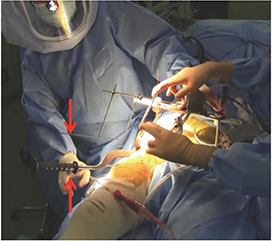 Since the check of whether a cup holder and an angle indicator are parallel is performed visually, this could be a factor of error.
3. Pressing of HipCOMPASS against soft tissue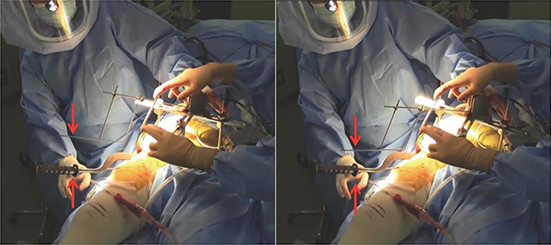 The angle shown by device indicator could differ by the way the device is pressed against the soft tissue. The device should be pressed evenly for obtaining a constant angle.
4. Placement of HipCOPMPASS at registration point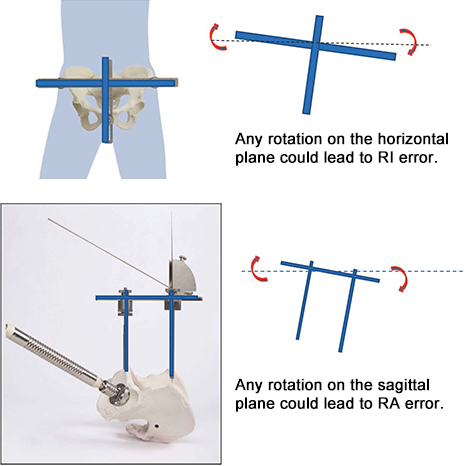 Since soft tissue could be easily moved on bone, it was needed for surgeon to recheck the placement of the device.
Note: Accurate implantation of HipCOMPASS was not possible for patients with obesity, where registration point could not be detected from the surface of the skin.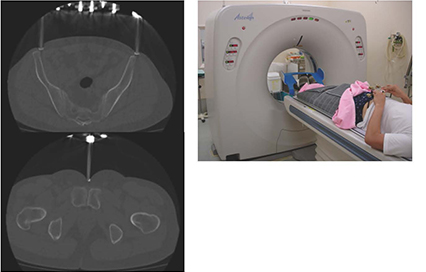 5. Post-operative measurement
| Intraclass correlation coefficient | Inter-rater | Intra-rater |
| --- | --- | --- |
| APP | 0.99* (0.97-0.99) | 0.98* (0.92-1.00) |
| RA | 0.98* (0.94-0.99) | 0.98* (0.94-1.00) |
| RI | 0.98* (0.96-0.99) | 0.99* (0.98-1.00) |
| SA | 0.98* (0.96-0.99) | 0.99* (0.96-1.00) |
pReproducibility at our hospital was less than 1 degree.

Since it was recognized that the intraclass correlation coefficient became few degrees, when used by surgeons with less experiences, post-operative evaluation should be done precisely by surgeon.
Problems of HipCOMPASS
1. It can be used only for supine position.
Patient's pelvis needs to be a reference for this device. Therefore, it cannot be used for lateral position which the pelvis has high mobility.
2. It cannot navigate its position information.
Since its position should be determined by surgeon's experience, it cannot be used by those who have less experiences for THA.
3. It cannot be applied to patients with obesity.
It should not be used for any patients whose registration point cannot be detected from the surface of the skin.


Department of Orthopaedic Surgery, Saiseikai Niigata Daini Hospital
280-7 Teraji, Nishi-ku, Niigata, Niigata 950-1104 Japan
http://www.ngt.saiseikai.or.jp/
Department of Orthopaedic Surgery, Niigata Rinko Hospital
1-114-3 Momoyamacho, Higashi-ku, Niigata, Niigata 951-8510 Japan
http://www.rinko-hp.com/
Department of Orthopaedic Surgery, Niigata University Medical and Dental Hospital
754 Ichibancho, Asahimachidori, Chuo-ku, Niigata, Niigata 951-8510 Japan
http://www.nuh.niigata-u.ac.jp/
Division of Orthopedic Surgery Department of Regenerative and Transplant Medicine, Niigata University Graduate School of Medical and Dental Science Japan
757 Ichibancho, Asahimachidori, Chuo-ku, Niigata, Niigata 951-8510 Japan
http://www.med.niigata-u.ac.jp/ort/