Overview
ZedEdit is 3D visualization and measurement software.
ZedEdit can create 3D models using 2D slice images. User can calculate parameters (such as distance between two points, volume of a region, etc.) in simple steps. Furthermore, ZedEdit can export 3D models in STL format for other purposes (such as surgical simulation, modeling of full-scale bone, etc.).
Features
Database of patient records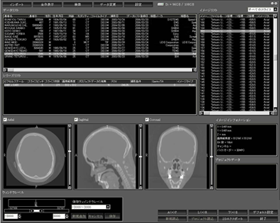 User can import 2D slice images into a database application.
Patient information (such as name, sex, date of birth, etc.) can be managed uniformly.

3D visualization
ZedEdit can create a 3D surface model using surface rendering.
Each part of the 3D model can be extracted separately by creating mask on 2D slice images.
Furthermore, ZedEdit can display the internal structure of the 3D model using volume rendering.
3D measurement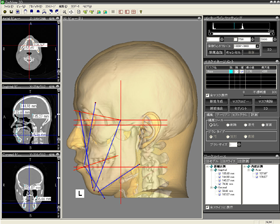 ZedEdit offers extensive tools to calculate parameters (such as distance between two points, angle between two lines, etc.) on 3D model and MPR (multi-planar reconstruction) images.
Furthermore, area and volume of mask region can be calculated.
FAQ
System Requirements
OS
Windows 10 version 1809 or later
CPU
Intel Core i5-4670, i7-4770 or higher
(CPU clock rated 3GHz, quad core or higher recommended)
RAM
16 GB memory
Disk Space
10 GB or more for program installation, 1TB or more for project data storage
Monitor Resolution
1920*1080
Graphic board
NVIDIA Quadro P3200 or NVIDIA GeForce GTX 1060 or higher
(with 3GB or more video memory is recommended)
Communication Port
1947
ZedView uses Sentinel HASP (SafeNet/Gemalto), to provide software license keys for all ZedView modules. The Sentinel HASP driver uses communications port 1947 on your computer.
Conditions for CT image
| | |
| --- | --- |
| Range | Entire object |
| Data format | DICOM |
| Slice direction | Axial |
| Slice pitch | 1mm or less (depends on the object) |
| FOV | Minimum value for the entire object (recommended) |
| Gantry Tilt | 0 degree |
Installation cost
Please contact us for details.